Your professional partner
The PRORETA company
PRORETA Tactical GmbH develops tactical components for military and police special and operational units.
The company's core competence lies in the development and production of solutions for the everyday training of the operational units, in the area of tactical action in built-up areas. For this purpose, the so-called Pluteus CQB system, a mobile partition wall system, was developed for tactical training to deal with operational situations in apartments.
The planning and implementation of concepts for entire training centers also belong to the company's portfolio, and has already been implemented several times at national and international level. The various projects included the entire concept creation, as well as the creation of a comprehensive training environment to deal with complex situations.
In addition, with affiliated partner companies, concepts for the modern implementation of modular indoor shooting ranges, partially open kill houses and innovative solutions for targets and bullet traps are created. The special focus here is on "clean" solutions to protect the emergency services.
Your experienced team
The PRORETA Team

Alexander Keul
Founder and CEO
Founded Proreta Tactical GmbH in 2014
9 years member of GSG 9 of the Federal Police
3 years bodyguards with an exposed family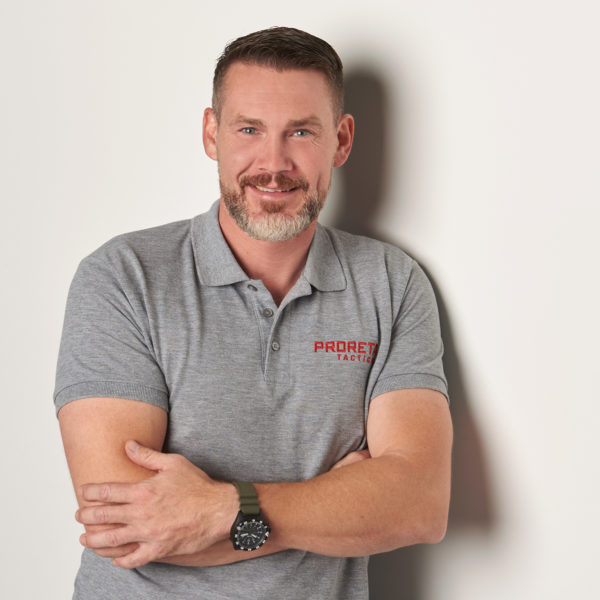 Jens Goerdts
Sales and development
Part of the Proreta team since 2019
For 14 years a member of GSG 9 of the Federal Police
5 years bodyguards of an exposed family Annett Handschag
Back office and sales
Our partner companies
Our cooperation partners
Here is an extract from our reference list
Successful examples
Police Brandenburg
Police Baden-Württemberg
Police Berlin
Police Bayern
Police Hessen
Police Rheinland-Pfalz
Police Saarland
Federal Police
armed forces
Customs Criminal Police Office
Ministry of Foreign Affairs
Jagdkommando Bundesheer (Austria)
Armed Forces (Austria)
Police Austria
Zurich City Police (Switzerland)
CEA Atomic Agency (France)
Luxembourg Police