Modular systems & accessories
Training centers
Through the work of Alex and Jens in one of the most respected special units in the world, we know exactly the needs and requirements for a good training environment. We incorporate this experience into the planning and implementation of entire training centers. Nothing should be missing. No matter whether CQB systems, climbing tower, abseiling points, housing settlements that can be driven by car or training in a sharp shot on shooting ranges, kill-houses or military training areas, we realize almost everything that is necessary for professional training of complex situations.
With the planning and subsequent implementation of complex projects, Proreta is a strong partner for the implementation of professional training facilities.
Training Center Montabaur
Since 2021 the PRORETA Group has been the new owner of the former youth hostel in Montabaur. This has been converted into a training center in recent months and PRORETA's headquarters relocated there.
In the future, the property will serve as a supra-regional training and education center (TZ) for BOS forces (police / fire department / military). The existing building structure of the youth hostel with an area of approx. 2000 m² on 4 floors, with foyer, long corridors, seminar and dining rooms is ideally suited to prepare the forces for the upcoming difficult operational situations.
The training center and the 16,000 m² property are constantly being adapted and developed to meet the needs of the emergency forces.
Since 01.09.2020, we have been operating our own tactical training center for the police and military in Boden near Montabaur. On 850 m², the operational units prepare for their upcoming mission scenarios and can make use of the most modern technology. We offer a CQB area on approx. 300 m², distributed over two levels, which is suitable for training with training weapons such as UTM, FX and Force on Force. With our mobile partition system, almost any floor plan can be created to train upcoming situations in a residential environment. All training is monitored with the latest video and audio technology and can be used for evaluation. Furthermore, a 120 m² mat room for close combat training, a fitness room, a multi-functional area outside, a training room for about 20 people and locker rooms are available.
For renting please contact our office.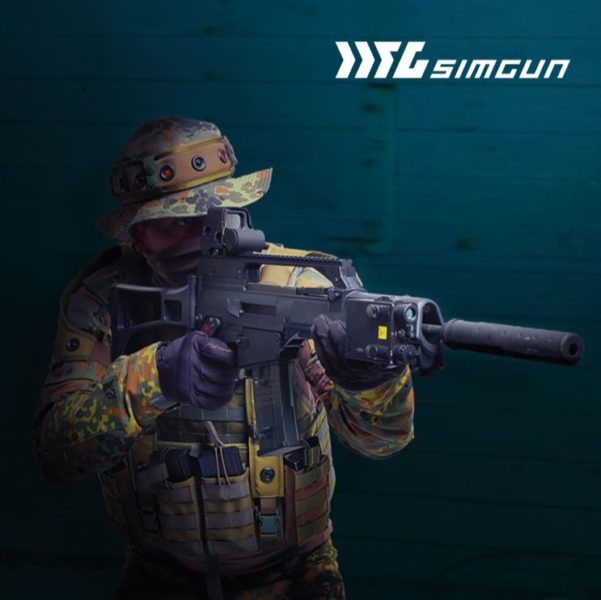 The laser-based tactics training system
SIMGUN
In the meantime, this system has been used by many different application units to supplement the tactical training. The hit detection is supplemented by the so-called T-Shock Unit, which also allows the operator to feel the hit locally using muscle stimulation.
With this system, real training can be carried out under operating conditions anywhere in the world without taking safety regulations into account. A possible application scenario can be trained in passenger aircraft, at the train station or in hotels or schools.
You can get more information from us or from the simgun.com website
Custom-made products on request
custom made
With various custom-made products, we respond to the wishes of our customers in a targeted manner, as far as possible. Using the example shown, a commercially available sea container was transformed into a mud hut in order to present the training environment as real as possible for the emergency services.
Even if the idea seems so crazy, please contact us! We make almost everything possible.